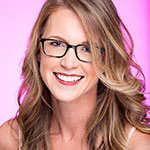 Holly Reed
Owner | Creative Director
Hi! I'm Holly, the creative force behind Reed Creative Group. We are based in Dallas, Texas and strive to help business owners, entrepreneurs, and forward thinkers like you stand out from the crowd. Creativity is my passion, and I strive to continually infuse that energy into the work I create.
I bring to the table over 20 years of design and advertising experience in a broad range of industries. After studying music and graphic design in college, I got an even better education designing for a few award-winning ad agencies. With strong organization and client skills and a thorough knowledge of the advertising business, I decided to venture out on my own, and in 2005, REED CREATIVE GROUP was born.
When I'm not in the office designing, I'm either in the studio writing musicals, outside enjoying our small farm, or laughing with my crazy fam of redheads. I'm also one to workout obsessively and have a unquenchable love affair with New York City. My personal goal is to use my passion to inspire and move people and I believe firmly "If you're not scared, your dream isn't big enough."
ASCAP Member |  Dramatists Guild Member  |  DFW Theatre Critic 
Want to chat? You can reach me at hollyr@reedcreativegroup.com.
The biz
At Reed Creative Group, we combine creativity with sound business knowledge, solid marketing principles and good old common sense. As a full service advertising agency and design firm, we provide custom, integrated solutions across brand, print, web, advertising and marketing mediums. Generating a good idea and carrying it across several mediums to effectively accomplish your marketing goal is what we do best.
Corporate Branding & Strategy

20%

Web Design

35%

Print Collateral

45%

Customer Happiness

100%
Interested in working with us?